The wide variety of products available in today's market makes it certainly difficult for the consumer to choose the most appropriate application. At this stage of any decision-making process, professional consultation is priceless. With over 30 manufacturers in our portfolio, we help our customers designing the right application and finding the most appropriate products for their needs.
Let's take a look at a few considerations when it comes to choosing the most suitable applications:
Tanks and Valves

Most tanks in today's market are made of a fibreglass composite – no surprise here. But what tank size is appropriate? The idea of "bigger is better" cannot be applied as a general rule – rather often on the contrary: quite often going smaller and decreasing the bed-surface area of any given tank scenario might turn out to be the better way to reach a specific goal.
And there are other parameters that need to be looked at: What are the overall raw water conditions and which removal capacity needs to be accounted for? How many people live in the house, what is the average daily demand and which purpose is the water intended to be used for? Does the in-house flow-rate allow for sufficient backwashing capacities? Questions like these and many others on our list, are key questions, which have to be addressed first.
The choice of valves is not an easy one either. For most conditioning units a so called metered valve makes a lot of sense. In other cases, for example when certain media require a regular backwash, regardless of water use, a so called time clock valve may be considered sufficient and the pricier metered valve might turn out to be not necessary. But thoughts like a fluctuating number of visitors, potential gatherings for entertaining, how many loads of laundry are done per week and more questions require good answers for the right decision.
Another consideration is the technical set-up of any valve. Which type is the right one for any given water conditions? Vertical piston valve? Horizontal piston valve? Camshaft valve? Turbine driven valve? Non-electric valve? - they all do have their places in our industry and we can make recommendations with the underlying explanations as to which valve type can deal best with the given circumstances.
On top, the idea of servicing valves should not be neglected. Which valve allows for faster service and maintenance procedures and as a result saves costs on service calls? A higher initial purchase price might balance out pretty quickly that way.
Media and Filters

It is very obvious that the right choice of medium – the little beads inside a filtration tank – is crucial. This is where the magic happens. Some media require low flow-rates, others require higher flow rates. Specific weight, dry and wet conditions, removal capacities, regeneration aspects, bulk density and much more are factors that need to be looked at.
We custom design systems and take all these considerations into account. Overlooking crucial aspects all too often leads to system failures, fouled media and can actually lead to adverse affects, meaning that now the system could potentially even worsen the water quality. We refrain from taking a generic approach to finding a working solution. The past has shown there is no such thing as "I live in a certain area, hence I need…" or "My neighbour has xyz in his water, hence I need the same".
No two wells are exactly identical; even on municipal water supplies, large differences and variations can be found. And consequently the right solution for your specific needs should be customized too. 
Talking about media and filtration: There is carbon available for about $200 per cubic foot and there is carbon available – definitely not the same type though – for $2200 a bag. Cationic resins and anionic resins both can show totally different characteristics within their respective fields. What type of regeneration is best and most effective for which medium? In other words it is necessary to know the limitations of each medium. How much of an existing impurity can this medium deal with? How much flow rate is required? How much freeboard is a must inside the tank? Which other contaminant in the water can possibly interfere with the medium's efficiency? Focusing on one or just a few parameters or contaminants only and neglecting potential counteracting circumstances, just does not cut it!
You can have the best and most expensive arsenic removal medium available on the market, the best type of carbon, the most efficient iron removal medium out there, and so on but if certain conflicting parameters are not tested for and dealt with beforehand, your filtration medium will not just be useless prematurely but leave you with unsatisfactory and potentially even harmful water quality results.
The same considerations apply to any types of filter cartridges just as well. A 10 micron filter just is not a 1 micron filter, although they might look pretty much alike for the untrained eye. Non-backwashing filters need to be replaced frequently to maintain efficiency. But which "ingredient" allows for best results? The right location for the filter in the treatment sequence needs to be determined. Otherwise the whole system may not be able to fulfill what it was designed for.
Reverse Osmosis Systems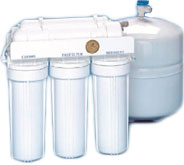 Comparing RO-Systems can turn out to be quite the challenge for a consumer. Why can I get one system for $400 and another one costs over $3,500. We are not implying that inexpensive means bad but usually higher grade models just have better systems, better filters, better membranes and better warranties.
What exactly does 2-stage, 3-stage, 4-stage, 5-stage – RO mean? Is one dedicated drinking water faucet sufficient or would you prefer having multiple outlets in the house? Is then a booster pump required? Do I need a larger holding tank for that purpose? Would I like to purchase an upgraded faucet, matching the other fixtures in my house?
And what about other components along the lines of "peace of mind"? What is the difference between a certified and a non-certified unit? Is it worth the difference in price? And again we need to point out that each device has its limitations. Often times people are under the impression a single faucet reverse osmosis application is a substitute for other whole home devices – please do not run into that trap! The better the (necessary) pre-treatment system, the better the RO can do its job and provide what it should – excellent drinking water quality. For well and municipal water supplies, this is certainly one of the best choices to make – if the "rest" is taken care of.
UV lights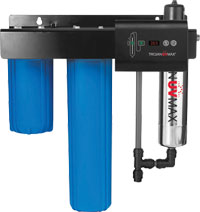 Unfortunately there are still too many UV light applications out there with no pre-filters. Any UV-light without a pre-filter is pretty much pointless. Canadian legislation just requires testing for 2 types of bacteria – that's it. What about other bacteria, cysts, viruses, worms, nematodes, funghi etc? You get the idea: There is more to microbiology in water than just considering the absence of 2 types of bacteria as microbiologically "safe".
Talking about purpose: What about the statement "UV light kills bacteria"? Sounds familiar? Let us explain, why this is not what a UV light is for in the first place. This is the point to ask about the efficiency of a UV light. Have you ever received proof it really works? We mean after a longer period of time in service?
What size of lamp is sufficient? A 3 gallon light just does not do the trick for a larger family. What do I need to know about UV transmittance and how does it impact my choice of device? What other parameters can be in my water, which can easily compromise the whole purpose of a UV light application? 
Bottom Line
We could go on for hours but the bottom line of this small, provocative section is to make sure you ask the right questions and receive the respective explanations to ensure any device purchased is a valid consideration for your water treatment needs.
We are pretty sure and although we have just scratched the surface of a tiny amount of topics within our industry, the questions above have triggered some thoughts and touched on some points which potentially did not have a relevance for you so far. We'd be happy to provide you with the right solutions and explain details, before you make a decision. Give us a call and let us help you find the answers to the questions that are on your mind.